Customer showcase: Flour + Water Pizzeria, San Francisco August 18 2023,

0 Comments
The mission behind the Flour + Water Pizzeria in North Beach was to pay homage to the Italian heritage of the neighborhood and celebrate the art of pizza-making with an elegant yet approachable ambiance. Founders Thomas and Ryan aimed to establish a place that prioritized exceptional pizza while maintaining a lighthearted atmosphere.


The design favored a simple, functional aesthetic that highlighted the dynamic pizza-making process and the vibrant ingredients. The cardboard lights were a great match for the design, blending a down-to-earth feel with a touch of nostalgia, and they added a fun element to the pizza-making atmosphere.



Throughout the establishment, subtle references to the pizza-making process and playful details were incorporated. Custom steel elements, all crafted by Lundberg Design. 

Visit the Knowles architects website here to see more.

Photography Kristen Loken

Designer: Gavin Knowles, Lundberg Design

Consultants: Kitchen, Restaurant & Bar Specialists, Banks Landl Lighting Design, Office, MHC Engineers, Inc.
Contractor: Cookline SF


This post features: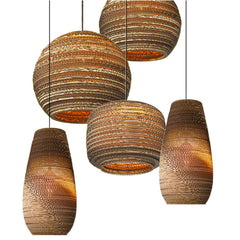 Luminaria Corrugated Board Pendant Light